General election: Corbyn deflects questions on freedom of movement – live news | Politics
Online Articles
3 weeks ago
Corbyn says that their proposals for re-nationalisation are "very, very modest". The water companies are failing and so is Royal Mail.
He finishes the interview by saying he is "determined to win it and looking forward to winning it on 12 December".
On the party's pledge to give people free dental check-ups, Corbyn says that the measure would actually save money because it would prevent more expensive – and painful – problems emerging. "You should look at expenditure as investment in the future," he says.
Asked if he agrees with army chief Nick Carter's comment that NATO was the most successful military alliance in history, Corbyn says he wouldn't define it as that but as "a product of an attempt to bring people together after the second world war".
On Trident, Corbyn says the nuclear deterrent would part of "nuclear non-proliferation discussions" if he became prime minister. The real insecurities in the world are not the same as they were in the Cold War, he says, they are more to do with cyber-security.
Corbyn is asked about the SNP's Ian Blackford's insistence that his party would insist on a Scottish independence referendum in the first year of a Labour government. Corbyn says he cannot promise that. "We are not doing deals with anybody, we are not forming coalition," he says.
The issue of an independence referendum should not come "in the early years of a Labour government", says Corbyn. He says the SNP will have a choice between bringing in a Tory government with all its austerity measures and a progressive Labour government.
Corbyn: wait for the manifesto for Labour's policy on freedom of movement
We paid £11bn into the EU budget last year to access the bloc's market. Would Corbyn agree to that, says Marr. The Labour leader says it depends how much they were asking for but that we need to maintain access to EU markets.
Corbyn is asked if the Labour party's manifesto will repeat its 2017 promise to end free movement.
"You'll have to wait until Thursday [when the Labour manifesto will be unveiled] to find out the wording of it," says Corbyn. A lot of EU nationals have made their homes here and make a massive contribution to this society, he says. They should be able to remain.
Marr asks the Labour leader about his party's conference motion to "extend free movement". Corbyn says he thinks the movers of the motion had in mind "family reunion", so allowing people to bring members of their family to the UK from outside the EU. (The Conservative party is interpreting the motion as meaning the extension of free movement to other countries.)
Will free movement end if we leave the EU? "There will be an awful lot of movement," says Corbyn.
Updated

Corbyn refuses to say if he wants the UK to stay in the EU or leave
Corbyn is on Marr. Asked if he wanted the UK to leave the EU or not, he said he would put that choice to the British people and that he wanted "a close relationship with the EU".
"We will negotiate a credible option of leaving and put that along side remain and put that to the British people," he said, adding that negotiations with the EU would start as soon as they entered government.
Marr points out that most of the senior members of the shadow cabinet have said they would campaign to remain in any second referendum. "You don't know who I'm going to take with me into those negotiations," said Corbyn.
"However people voted in the referendum, they didn't vote to loose their job, they didn't vote for a deregulated society," he says.
A Labour-negotiated deal would be put to the party's conference as well as to parliament, he says.
Labour would back a customs union with the EU. "We have to be realistic about where British trade is at the moment", says Corbyn, and about half of UK trade is done with the EU.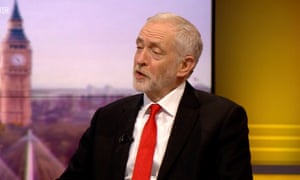 Updated

Raab says migrants should pay into the NHS
Foreign secretary Dominic Raab is on Marr, talking about Conservative plans on immigration – some of which have been set out this morning.
Asked about the previous target of getting immigration down to 10s of thousands, Raab says that – speaking as the son of a refugee – he thinks that immigration can be very beneficial, but that people coming to the UK should have to wait five years before they can claim benefits and that they should pay into the NHS.
His party has said that the "vast majority" of migrants will need a job offer to come to the UK to work if they form the next government, regardless of where they are from in the world. They say there will be a small number of exceptions, including high-skilled scientists and those who want to come to the UK to start a business.
Asked what groups of migrant workers the party wanted fewer of in the UK, Raab said he didn't want to stigmatise groups. He said he wanted to invest in innovation so that the UK was more productive and he wanted to reduce the need for cheap labour from abroad.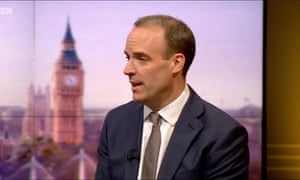 The Conservatives have pledged that access to benefits will be equalised between EU nationals and those from the rest of the world, meaning non-UK citizens will typically need to wait five years before they are able to claim benefits. Under current rules, EU migrants can access welfare and services after being in the UK for three months.
The party said it would put an end to the practice of child benefit being sent abroad to support children who do not live in the UK and that it would increase the immigration health surcharge from £400 to £625. They said the change will raise more than £500m a year.
The surcharge was introduced in 2015 in a clampdown on so-called "health tourism", and has previously been doubled from £200 to £400.
Updated

Good morning and welcome to Politics live.
Prince Andrew's bombshell interview with Emily Maitlis for BBC's Newsnight last night is likely to dominate this morning's news agenda. The Duke of York claimed that he could not have had sex with a teenage girl in the London home of British socialite Ghislaine Maxwell because he was at home after attending a children's party at Pizza Express in Woking. You can read the full story here and some analysis here.
In politics news, the US businesswoman Jennifer Arcuri has told ITV's Exposure that Boris Johnson brutally cast her aside "like some one-night stand", leaving her "heartbroken" since he became prime minister and the controversy over their four-year relationship became public. The full interview will be aired on ITV's Exposure this evening.
Writing in the Observer, Jeremy Corbyn has said the Labour government will pass an emergency "NHS protection" law if it wins the general election, to ensure that powerful US pharmaceutical companies cannot infiltrate the health service and dramatically force up the price of drugs. The party has also pledged to provide free NHS dental check-ups for everyone in England this morning. Corbyn said that over half of adults and 40% of children haven't been to the dentist in the last year.



If you don't go to the dentist for check-ups, you end up storing up problems in the long term. Over 100,000 are admitted to hospital every year because of problems with their teeth.
The Labour leader is due on the Andrew Marr show shortly. I'll bring you the latest from that.
Updated

Source link
Related