Atlético Madrid v Barcelona: La Liga – live! | Football
Online Articles
4 days ago
"What is it with the design of this Barcelona alternate/third jersey?," asks Peter Oh. "Were they going for a scratched-by-a-velociraptor look?"
(Also known as the Bob Peck?)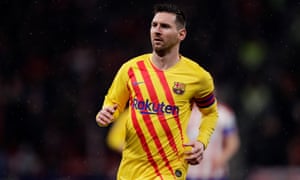 Updated

Half-time Atletico Madrid 0-0 Barcelona
Terrific half. Plenty of wonderfully assured play from both sides, and no shortage of chances all round. All that's missing is, well, a goal.
Updated

44 mins: The first glimpse of Messi's latent capacity to take out an entire team single-handedly – he dribbles around the edge of the box, encircled by defenders, but keeps the ball like a magnet. He plays it wide and looks for the return, but doesn't get it. Roberto's high cross comes to nothing.
42 mins: Barca hit the bar! Pique with the perfect mirror-image to the chance Morata had a minute before, meeting an outswinging corner. He heads the ball down, too, but it bounces up against the crossbar.
40 mins: Another phenomenal piece of goalkeeping from Ter Stegen, clawing away a header from Morata, who met a corner with a towering leap. He headed it powerfully downwards, and it bounced right in front of Ter Stegen, who readjusted brilliantly to scoop it away.
38 mins: Atletico are playing it out from the back with astounding calm, but here they lose the ball in midfield and a lovely bit of one-touch play from Barcelona sees Griezmann lay off to Suarez 25 yards out, and the Uruguayan unleashes a fearsome half-volley that flashes just wide.
35 mins: More brilliance from Arthur, wriggling away from Herrera and pinging a lovely ball up to Messi, who has two men to beat and can only win a corner, which he overhits wildly.
32 mins: Arthur, who is growing into the game, bursts forward and feeds Messi, who is tackled(!). Morata tries to break clear but is rugby tackled by Rakitic, who absurdly escapes a booking. Seconds later, Pique repeats the trick on Joao Felix, and does get a yellow.
29 mins: Barcelona have woken up. They play some of their old keep-ball, which comes to an end when Griezmann thunders into a slide tackle, to a deafening chorus of whistles. This is a high-class game.
26 mins: Great chance for Barcelona! They should be ahead, Messi nicking the ball off off a fast-asleep Herrera and squaring for the Croatian, but the pass forces him just away from goal and he can't quite get the purchase on the shot. Saved.
24 mins: More purposeful attacking from the hosts, who work the ball beautifully down the left but can't quite work a clearcut chance. Barca's counterattack is snuffed out instantly, and Atletico turn the screw again with Herrera bending one wide from just inside the box. They're all over Barcelona here.
22 mins: Atletico steal possession in the final third and have a great chance to spring a four-on-three attack, but Correa gets his pass all wrong. Will they come to regret these moments…?
19 mins: Koke puts in the cross, cleared, but it comes back in to the back post where Joao Felix is waiting, practically underneath the crossbar, and has to score! He takes the volley with his side-foot, but it hits a star-jumping Ter Stegen on the inside of his thigh, trickles across the goal line and out for a corner. Unbelievable!
18 mins: Another free-kick to Atletico, this time right on the edge of the box, Junior wrestling Correa to the ground.
16 mins: Trippier whips in a beauty of a delivery, met aggressively by a rising Felipe whose header goes over. That could – should? – have been a goal.
16 mins: The teams are taking turns to keep the ball and slowly move forward. Atletico are doing more with the possession, though, and Trippier looks for Morata again with a cross, which is cleared, before winning a free-kick out wide.
12 mins: Barca enjoy their first sustained spell of possession, but they meet a brick wall each time they try any really penetrative passing. De Jong tries something different, running in behind from midfield, but he's eased away from the ball by a vigilant Hermoso.
9 mins: Atletico are on top here, and are getting joy down their right. He feeds a lovely pass into the box to Morata, who holds off Pique, swivels and fires in a shot that needs saving. Corner.
6 mins: Trippier picks out Correa down the right, who wins a corner. After a scrambled clearance, it breaks wide to Hermoso, and his driven cross hits first Lenglet and then the far post. That could have gone anywhere.
5 mins: Herrera intercepts a Suarez pass and stays ice-cool under pressure from De Jong to play it out from the back. Nice. But Barca are pressing with vigour.
Updated

3 mins: The stadium erupts in fierce whistles as Griezmann gets his first touch. No real rhythm to either side's play so far: it's been belting it down here, and the pitch it soaking.
1 min: And we're off. Thomas Partey belts it into the mixer, and Atletico win a series of throw-ins, ending when Morata tries a ludicrously hopeful long ranger that trickles wide.
The teams are out. Handshakes are exchanged and the managers share a friendly hug. That's the niceties over with.
So Antoine Griezmann starts – replacing the injured Ousmane Dembele – but with Ivan Rakitic coming in for the suspended Sergio Busquets, we have a Barcelona midfield with precisely none of the Xavi-Iniesta-Busquets trio that pretty much defined the club's previous decade and a half. Which isn't exactly new, but is still weird.
An attacking lineup from Simeone, too, with both Joao Felix and Alvaro Morata up top – they'll fancy their chances against this Barca defence. But will Atletico look to take the game to the visitors (which is what Barcelona are least comfortable dealing with), or soak up the pressure and spring on the counter (which is what they are most comfortable doing)?
Updated

Some pre-match reading, from Sid Lowe, on the strange riddle of Barcelona:
Teams!
Atletico Madrid: Oblak; Trippier, Hermoso, Felipe, Saúl; Correa, Herrera, Thomas, Koke; Joao Félix, Morata
Barcelona: Ter Stegen; Roberto, Lenglet, Piqué, Junior Firpo; Rakitic, Arthur, De Jong; Messi, Suárez, Griezmann
Preamble
Are Barcelona European football's weirdest team? For a start, they're nothing like the tirelessly scurrying, ball-hogging, even-greater-than-the-sum-of-their-parts team that we became used to for so many years. Instead, this lot are a tad scruffy in possession. Not the most willing pressers. And reliant on flashes of individual magic rather than the slow asphyxiation of collective dominance.
Nothing wrong with that, except it doesn't leave you much to fall back on if your big men don't turn up. Luckily Barcelona have a big man who rarely fails to turn up – although even Lionel Messi is raising more than his fair share of questions this season: does his brilliance when he has the ball justify his doing absolutely nothing when he doesn't? And at what point does the repeated struggles of the forwards brought in to play alongside him start to point towards an awkward common denominator?
So far, Barcelona have been muddling along with a Keeganesque "You score four, we'll score five" approach, but today they meet their direct opposites in Atlético Madrid, who have the best defence in the league but the lowest-scoring attack outside the bottom six. Unstoppable force? Immoveable object?
Victory for these sides' common enemy last night means that Barça must win to reclaim top spot, while a win for Atlético would draw them level on points with their opponents. Last year, it took a last-minute goal from Ousmane Dembele to deny them the win – but last year they could also count on Antoine Griezmann, whose summer defection means he lines up for the visitors tonight. What more motivation should Diego Simeone's men need? Strap in.
Kick-off 8pm BST.
Updated

Source link
Related