Ariana Grande appears to endorse Bernie Sanders for 2020 election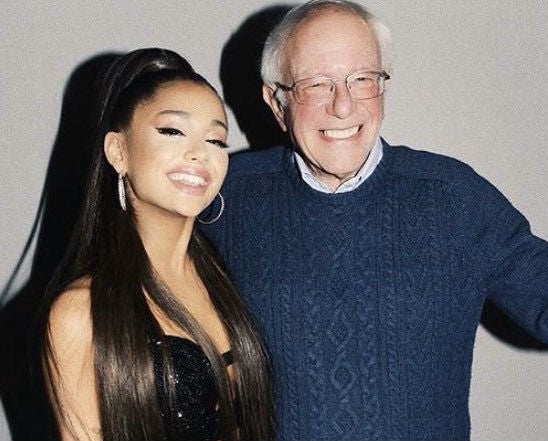 As they say in politics, every vote counts. But when a person has more than 60m Twitter followers, that vote might count for more than others.
Just hours before the latest Democratic debate kicked off, Bernie Sanders received a welcome boost after Ariana Grande shared images of them backstage at her concert with the words "MY GUY".
The post from the 26-year-old singer may not have been an official endorsement of the 78-year-old senator from Vermont, but it was hard to read it any other way. 
"Thank you Senator Sanders for coming to my show, making my whole night and for all that you stand for," wrote the Grammy-winning artist, behind albums such as Yours Truly and Thank U, Next.
She referred to the work of a project, HeadCount, that is seeking to register voters, particularly young people.
She added: "We've already registered 20k+ young voters at my shows alone. Also I will never smile this hard again promise."
The Florida-born musician, who is 10th on the list of most popular Twitter accounts with 67.4m followers, has never sought to hide her progressive political views, and Alexandria Ocasio-Cortez once tweeted a set-list that framed "progressive politics as an Ariana dance party".
Last year, Grande told Elle magazine: "There's a lot of noise when you say anything about anything. But if I'm not going to say it, what's the f***ing point of being here?".
Mr Sanders, who attended her gig in Atlanta, Georgia, which was also the venue of the fifth Democratic Party debate, also posted the images.
"I want to thank Ariana Grande for not only being a wonderful entertainer, but also for being such an outstanding advocate for social justice," he wrote.
"We must all be prepared – like Ariana has shown – to fight for everyone who is struggling. It was great to meet her in Atlanta last night."
Mr Sanders wife, Jane Sanders, tweeted her own tribute.
She wrote: "Thank you @ArianaGrande  for supporting @BernieSanders' candidacy for president! Your Atlanta concert last night was incredible!"
Source link